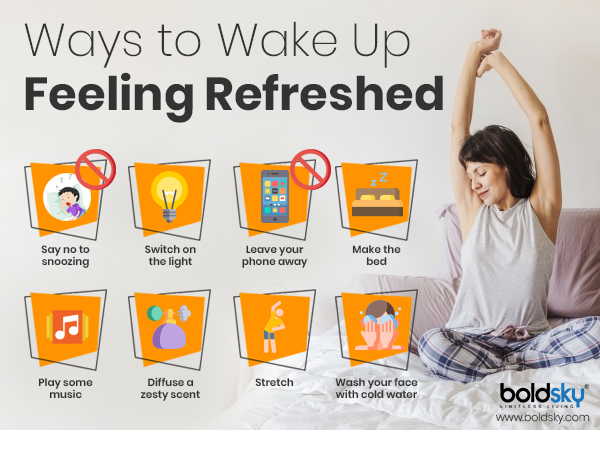 Things to do after waking up to start your day right
You're a busy person, there is a tonne of duties that have to be carried out right from when you wake up in the morning. And that's completely understandable. But, before you get cracking with the day's tasks, there is a simple to-do list that you must check off if you want to make the best of the day.
These activities are curated to rejuvenate and refresh your body and mind. In this article, we give you the answer to how to start your day –
1. Water is a must
First things first, drink a glass of water before you leave your bed. If possible, you should opt for lukewarm water. Either keep a thermos full of warm water by your bedside or go over to your kitchen and heat some water. Drinking water early in the morning is the best way to detox your body as it is sure to flush away the pathogens in your body when you urinate.
2. Get some sun
The best way to start the day is basking in the sun. The early morning sun can do wonders for your health. The soft slanted sunlight is devoid of the usual harmful UV rays. And instead, it can ply you with loads of Vitamin D to make your bones stronger, boost your immune system, improve blood circulation, and help your body assimilate other minerals like phosphorus and calcium.
Besides, after 10-12 hours of nighttime darkness and artificial lights, your body craves for exposure to natural light and this will naturally boost the production of endorphins or happy hormones.
3. Stretch your body
Sleeping all night will rejuvenate your body and brain but lying in bed all night without getting much activity stiffens all the muscles of your body and reduces the mobility of your joints and limbs. That is why it is compulsory to stretch the different parts of your body to ease out the tension and soreness in your muscles and joints. There are further benefits of stretching after waking up-
Relieves headache, anxiety and tension
Enhances your overall flexibility
4. Get started with some early morning snacks
Midnight snacks may damage your health, but starting your day with a light snack is actually a good idea. It has been many hours since your dinner. And before its time for a heavy breakfast, it's actually wise to let your stomach get used to some food with a small and healthy snack. Here are a few snack ideas for you to mull over-
A fruit smoothie
Yoghurt
Whole-grain crackers
A piece of brown bread toast with peanut butter smeared on one side
5. Meditate for 10 minutes
Meditation can calm your mind, get a better grip on yourself and channel all your focus and attention on the tasks at hand without getting sidetracked. If you squeeze in even 10 minutes of meditation in your early morning routine, you will reap the benefits throughout the day.
6. Read for half an hour
Reading can include anything you want- a gripping novel that you can't let go of, the news that will keep you abreast of the times, or a self-help book to keep you motivated. Reading in the morning is a way of enriching yourself before your workday begins.
7. Prepare your routine
What better way of tackling your tasks efficiently than chalking out a meticulous routine for the day ahead. You can either do it in your head or jot down a to-do list. This way you will not skip or forget anything important.
8. Some self-affirmation will help
If you are going through some trying times, It's quite natural to feel gloomy and upset. You may even find yourself doubting your own capabilities. But losing faith is the surest path to failure. The best way to start the day is to tell yourself that you are a warrior and that you will take challenges one at a time and find solutions to all of them. Give yourself a mental high-five. This simple act can dramatically raise your confidence and efficiency.
These simple morning tips will help you be a better version of yourself. To make time for them, you will need to wake up a little early, but we promise, it's worth the inconvenience.
Credit: PharmEasy