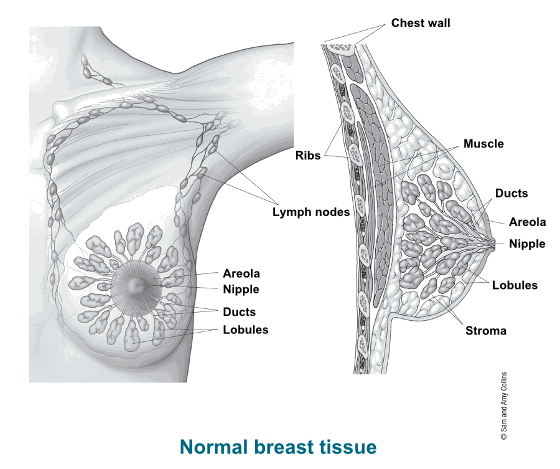 What Is Breast Cancer?
Breast cancer is a type of cancer that starts in the breast. Cancer starts when cells begin to grow out of control. (To learn more about how cancers start and spread, see What Is Cancer?)
Breast cancer cells usually form a tumor that can often be seen on an x-ray or felt as a lump. Breast cancer occurs almost entirely in women, but men can get breast cancer, too.
It's important to understand that most breast lumps are benign and not cancer (malignant). Non-cancerous breast tumors are abnormal growths, but they do not spread outside of the breast. They are not life threatening, but some types of benign breast lumps can increase a woman's risk of getting breast cancer. Any breast lump or change needs to be checked by a health care professional to determine if it is benign or malignant (cancer) and if it might affect your future cancer risk. See Non-cancerous Breast Conditions to learn more.
Where breast cancer starts
Breast cancers can start from different parts of the breast.
Most breast cancers begin in the ducts that carry milk to the nipple (ductal cancers)
Some start in the glands that make breast milk (lobular cancers)
There are also other types of breast cancer that are less common like phyllodes tumor and angiosarcoma
Although many types of breast cancer can cause a lump in the breast, not all do. See Breast Cancer Signs and Symptoms to learn what you should watch for and report to a health care provider. Many breast cancers are also found on screening mammograms, which can detect cancers at an earlier stage, often before they can be felt, and before symptoms develop.